Fun ... 

   Fitness ...
      Fundamentals ... 
Northern Stars Gymnastics

STELLAR PERFORMANCES AT ONTARIO CHAMPIONSHIPS 2014
The Northern Stars Provincial level gymnasts enjoyed an exceptionally successful 2013 – 14 season with all eleven qualifying among the top 32 in their level to the Ontario Championships that were held in Windsor in April. Six of the gymnasts placed in the top ten Overall, with the top placing being achieved by Lauren Dejean (Level 5, age 11) who finished second and also won a silver medal on Vault. A performance of particular note was that of 17-year-old Brittany Campbell in the level 8, age 14 and over category, who won Bronze on Bars and Gold on Floor in the All-around competition, and followed this up with Silver medals on Beam and Floor in the Event finals.

Also winning medals in the Level 5, age 10 category, were Rowan Allinson with a Gold on Beam, Charlize Stoddart with Gold on Floor and Bronze on Vault, and Alexis Banfalvi with Bronze on Beam. Rachel Van Namen (Level 6, age 9) won Bronze on Vault.

The competing gymnasts were: Rachel Van Namen, Alexis Banfalvi, Charlize Stoddart, Rowan Allinson, Kierstin Barkell, Breanne Beardsall, Lauren Dejean, Grace Worfolk, Hannah Scharf, Sarah Worfolk and Brittany Campbell.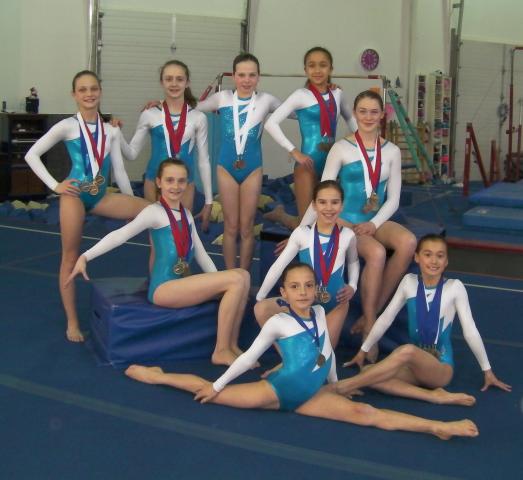 Tour selection 2014-2015
The 2014-2015 Season is off to a great start as over 200 athletes competed at the annual Tour Selection event in Toronto. Tour Selection is a province wide competition where the top athletes are selected (by level and ages categories) based on score to compete as part of Team Ontario at an out of country competition. Northern Stars was represented by Sarah Worforlk and Hannah Scharf in level 9 category, which is the highest level you can compete in Ontario – next level up is National.  Placing top 5 they will be  heading to Las Vegas as Ontario Team to compete January 16-18, 2015
1st Qualifier 2014
Provincial team brought home total 15 medals !
9 Gold medals
2 Silver medals

and 4 Bronze!
Great start girls!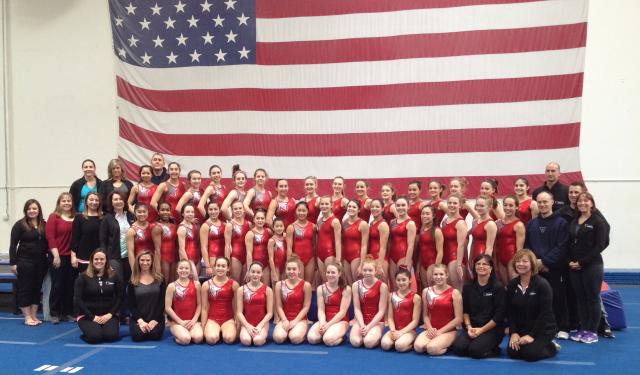 Tour 2015

Two Northern Stars gymnasts competed for Team Ontario in Level 9 in Las Vegas on January 17th. Sarah Worfolk  won four individual medals in finishing third in her age group, Silver on Vault, Beam and Floor as well as a team bronze, while Hannah Scharf was the gold medalist on Beam in her category where she finished fourth overall, and was also part of the third place Ontario team.
Northern Stars gymnast Hannah Scharf, competing at the Ontario Championships in Windsor, April 9th to 12th, qualified  for the second time this season to the Ontario team by finishing fourth All – Around in the Level 9 age 12 and 13 category. Her performance was highlighted by a Gold medal routine on Floor, and she will now travel with the four member team for her level to the Eastern Canadian Championships to be held in Moncton in May.
         Among other highlights, Sarah Worfolk demonstrated power on Vault both in the All – Around in Level 9, Age 14 and over, and in the Event finals, finishing just outside the medals with a fourth place finish on each day. Kierstin Barkell and Rachel Van Namen significantly improved from their qualification ranking to end up 16th and 17th respectively All – Around in the Level 7, Age 10 and 11 category. Barkell's results included a Bronze on Floor. In Level 6, Age 12 Lauren Dejean competed with consistency across all four events to finish in 10th place All – Around.
2015 Ontario championship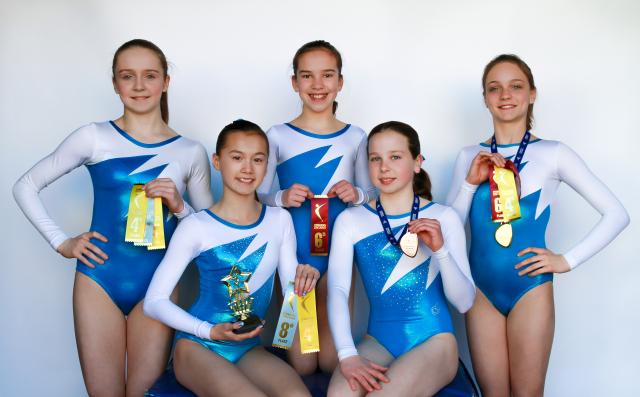 In the Level 10, Age 11 – 14 category Hannah Scharf won a Silver medal on Beam, and Bronze on Bars and Floor to place second Overall and qualify as a member of the five athlete Ontario team to compete at the Canadian Championships in Edmonton in early June.
Samantha Billingslea was another second place finisher in the Level 7, Age 9 category where she earned a Silver on Bars and Bronze on Vault, while teammate Ashley Choy placed seventh Overall with top results of fifth on Bars and sixth on Vault and Floor.
Strong performances on all four events saw Rowan Allinson place third All – Around in Level 6, Age 12, where a score of 9.65 gave her Bronze on Beam, and she also finished top eight on the other three events. Rachel Van Namen missed qualifying to the Level 7, Age 10 and 11 team for the Eastern Canadian Championships by a mere 0.075 points as she finished sixth in her category. Her results included top eight placings on Vault, Beam and Floor.
In Level 7, Age 12 Kierstin Barkell had a similarly strong All – Around showing that left her in sixth place, including a 9.5 score for fourth on Bars, and also a sixth on Beam and seventh on Floor. One age group above in Level 7, Age 13 Grace Worfolk had top placings of fourth on Beam and eighth on Bars to finish 11th Overall, while Lauren Dejean had a top placing of ninth on Beam to end up 17th Overall.
Outstanding results at Ontario 2016 Championship:
2017 Floor Champion Samantha B.

Northern Stars Gymnastics Club competed at the 2017 Muskoka Classic WAG Provincial Qualifier on February 17th, 18th and 19th. The 33 young gymnasts won a total of 29 Gold, 24 Silver and 25 Bronze medals. The athletes competed in various age categories from Level 1 up to Level 8.
A few special mentions include:

1st place all-around finishes for Angelika Mas (Level 1), Diana Zinovjeva (Level 3), Cadence Kearney (Level 3), Sarah McArthur (Level 4), Taeya Maidich (Level 4) and Rowan Allinson (Level 6).

2nd place all-around finishes for Alexa Forrest (Level 3), Sophie Dalziel (Level 3), Karlene Gooch (Level 4), Chloe Salerno (Level 4), Addison Ward (Level 6) and Rachel Van Namen (Level 8).

2017 ONTARIO CHAMPIONSHIPS
Twenty five gymnasts from Northern Stars qualified successfully to compete at the Ontario Championships held in Toronto in April, and London in June. Highlight performances included second overall for Taeya Maidich, third overall for Sarah McArthur, Bronze medals on Beam and Floor for Rowan Allinson, and Gold on Floor for Samantha Billingslea. In addition there were many individual medal routines and top eight overall and event placings by the other Northern Stars athletes.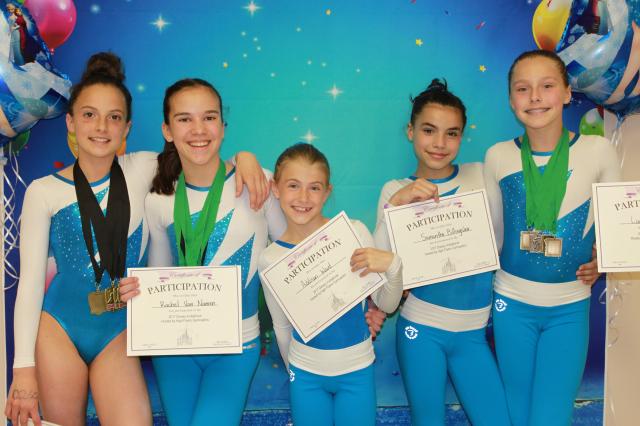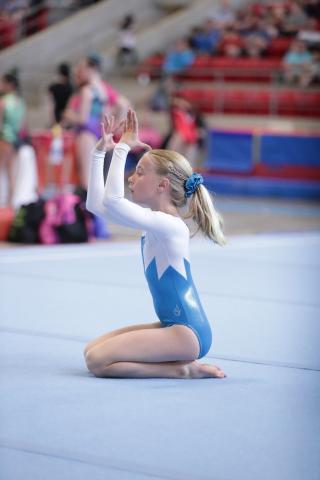 2018 ONTARIO CHAMPION
Sophie D, Level 3

Twenty tree gymnasts qualified to represent Northern Stars at the season ending Ontario Championships in London on May 31st to June 3rd. Seven of the gymnasts finished  top 12 in Ontario with Sophie Dalziel placing first All Around in Level 3. This event concluded a successful competition season for Northern Stars.
MISSISSAUGA CLASSIC 2018

Competing in levels from one up to nine the gymnasts from Northern Stars enjoyed a highly successful event at the Mississauga Classic held at the Hershey Sports Zone on May 18th to 20th. Seven athletes in the age nine and over groups succeeded in placing first overall in their categories, with many others also finishing top three all – around with numerous individual event medal performances. An additional seven gymnasts participated in the seven and eight year olds categories where they were also very successful in winning both all – around and event medals.