So, Register Online or in Person ?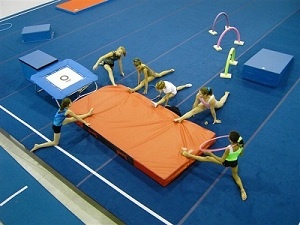 The easiest way to register for our Recreational Gymnastics Classes is through our Online Registration service provider. Clicking the link will bring you to another website hosted by iClass Pro for Online Registration which can be accessed at any time.
You may also register in person at the Gym Office during scheduled hours, our during our Registration Events.
Please note current class availability only viewable through the Online Registration portal.
Advanced 2 Hr & Intensive 3 Hr classes require approval from the coaches & are not available Online. Please contact the Gym Office.
Click on Launch member area
Note: if you've previously registered with iClassPro they may have an out-of-date email & password .... you will need to 1st login with the older email, then you can update your account profile with current email, address, etc.
You can create your new Family profile and password. This will include a profile for a Parent as well as your Child.
Once you have entered your email and password you will need to edit profile and click on edit contact information.
Next you will need to add/edit family information for each child to register.
Once completed, you can proceed with the registration
Only classes that your child is age-eligible for will appear as options.
If the class you are registering for is already full, you will be able to put your child on a waiting list in case a space becomes available.
Registration will NOT completed until full payment has been made.
The $45.00 Gymnastics Ontario Insurance fee is payable once a year from July 1st thru June 30th following year.
To ensure you are not charged twice for this fee please use the same name, DOB, etc... as used in previous registrations so the system will recognize your child.
The GO/Admin Fee is non-refundable once processed online.
If any information needs to be updated i.e. address, phone, email please contact us via email: