New Customers Must Register Online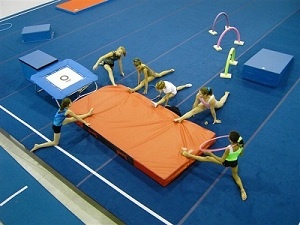 The easiest way to register for our Recreational Gymnastics Classes is through our customer portal. Please use "Register Online" button below to navigate to the portal.
Please note, current class spots availability is provided in the customer portal, website schedule is for reference only.
Advanced & Pre-Competitive classes require approval from the coaches & are not available Online. Please contact the Office.
Once you are at the portal home page:
Note: if you were previously registered at customer portal it may have an out-of-date email & password .... you will need to 1st login with the older email, then you can update your account profile with current email, address, etc.
Click on "Create Account" and set up your login email. A code will be sent to verify your email.
Once verified, please enter your contact information and create a password.
Next you will be asked to electronically sign our policies and agreements.
Then, please add your child's details..
You will then be able to access enrollment option and class filters. You will only see classes for your child's age eligibility.
If your preferred class is full, you can put your child on a waiting list.
Registration is NOT completed until full payment has been made.
The $48.00 Gymnastics Ontario Membership fee is payable once a year and is valid from July 1st to June 30th of every year.
To ensure you are not charged Membership twice please use the same name, DOB, etc... as used in previous registrations so the system will recognize your child.
Membership fee and all admin fees are non-refundable once processed..
You can update your address, students, add classes in the portal. If your login address has to be changed, please email us.